Hey there, all you sports bettors, armchair analysts, and aficionados of calculated risk-taking. We're not your typical sports betting gurus; we're more like your favorite uncles, Saul and Aaron, who've seen it all, or at least every Super Bowl since they started counting with Roman numerals.
Meet the Odds Brothers
I'm Aaron, and that's Saul, my brother. We've been around the sports betting block more times than a squirrel doing laps in Central Park. We've witnessed sports upsets, Cinderella stories, and more improbable game-winning shots than you can shake a bagel at.
Our Unique Edge
Now, you're probably wondering why you should listen to a couple of guys who remember the days when baseball players didn't need to wear helmets and football helmets were more like leather caps. Well, it's not just our age; it's the wealth of sports betting knowledge we've accrued over the years.
Have a head-start on all the action, consult us here and install us on your mobile phone. It'll be a game changer.
Bonus | TOP 10 OFFERS
What Awaits You at Odds Brothers
At "Odds Brothers," we've created a space where you can compare odds from various bookmakers for every sports event under the sun. Football, baseball, basketball, hockey – we've got it all, and we're here to make sense of the odds game. We're not here to sugarcoat it or complicate things; we're here to provide straightforward insights and advice that you can actually use. We'll break down the odds, share some stories, and sprinkle in humor like it's a secret spice mix.
Our Commitment to You
We're not promising you fortune or glory, but we're here to help you level up your sports betting game. We'll navigate the world of sports betting with a smile on our faces, even if the odds make us scratch our heads. And trust us, there have been a lot of head-scratching moments.
What Are You Waiting For?
So, what are you waiting for? Join us at "Odds Brothers," where sports and betting are our bread and butter. We may not be the young bucks on the block, but we've got the experience and knowledge to help you make more informed bets. So take a seat, and let's chat about the wonderful world of sports betting. It's time to play ball – or at least bet on it!
Instant access to The Best Odds, Tips & Free Bets
---
The Game is always on. Waiting for you to take the winnings. We love the game. Always there, ready to kick off. No sides, just winners and losers. The adrenaline rushing, in those seconds you know it cannot go wrong. A single bet, as brilliant as a hole in one… a slam dunk in the buzzer… winning the title on rival grounds. Some call it luck. It is.
As a result of preparation, timing and tactics. That's where we come in.
By providing you with the very Best Odds at the Best Price, at any given moment. Your best bet at this moment? Install us. It'll be a game changer. Claim your Front Row Seat for any match at any moment.
---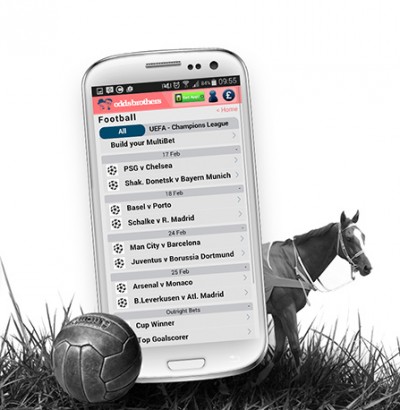 ---
Text ODDS to 81500 and have the link for the free OddsBrothers App sent directly to your phone. Or click on the button below and follow these steps:
Go to your download folder;
Click on the OddsBrothers App;
For security reasons, your device is set to block installations of Apps not obtained from Play Store. Change this in your settings by following the instructions on your screen;
Click the Install button.

---
---
Install the Free OddsBrothers App directly on your iPhone from the App Store, click on the button below and follow these steps:
Click on 'Download';
Click on 'Install';
Sign in to the iTunes Store with your Apple ID;
Wait for it…;
Click on 'Open'.